Here is another article from our international football coach in Australia, Dan Levin. He brings his unique observations from the coaching American football outside of the United States.
Previously I wrote about how one of the major challenges of coaching American football in another country is working to fix bad football habits picked up from other contact sports.  This installment expands on that.
Bad habits from Rugby: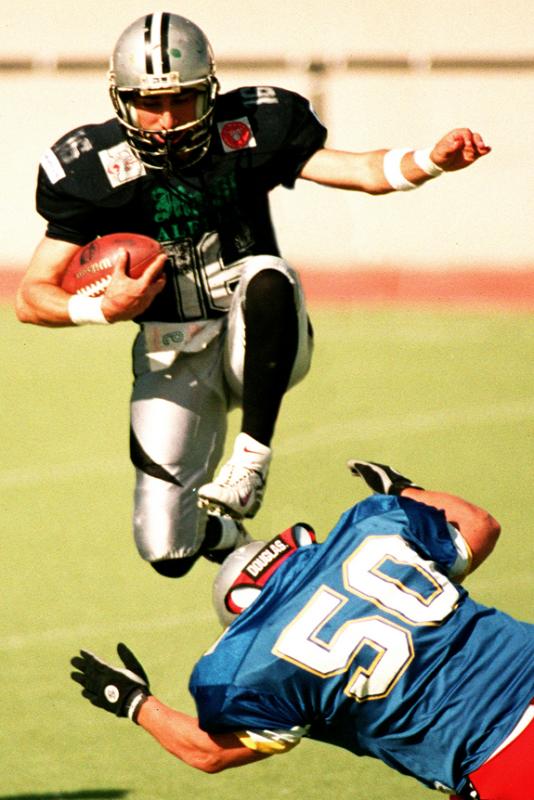 Regardless of the version (League or Union), rugby players with the football will hesitate to lower their shoulder and slow up into contact.  The reasons for this are obvious - in rugby they have no pads, so lowering the shoulder and speeding up into contact is a good recipe for concussions and separated shoulders.  Sadly, this exposes them to big hits from tacklers.  Additionally, they'll hold the ball by the fat section, rather than by the nose points.  This makes them extremely prone to fumbles.
In rugby, it's illegal to block downfield for a team mate carrying the ball.  As such, it's common to have an ENTIRE TEAM just stand around and watch a ball carrier after he breaks through the line.  It's not laziness (well occasionally it is), but more often it's years of built up instincts kicking in.
Bad habits from AFL:
Aussie rules football presents a few different challenges.  First, when a ball is in the air, players can literally climb on each other's backs to catch the ball, not to mention pushing and shoving underneath
for position.  Obviously, that's a very quick way to get pass interference.  Also, when punting, players will take a good 10-12 step run up, which there's no time for in American football.  Tackling in AFL is pretty substandard compared to to Rugby or American football. Players come in too high and too fast, trying frantically just to get an arm on a player.  In open space, players will overextend and get beaten badly - but a missed tackle isn't nearly as bad in AFL as in American football, so it's not a skill that's as well developed.