Here is another guest post by Coach Dan Levin. He is coaching in Australia and is lending his expertise of how the game is played down under to the Football and Coaching Community. He always likes to hear feedback on his articles so make sure to leave him a comment.
At the high school level, the days of playing the game of American football for fun are pretty much dead and gone. Parents, players, coaches, administrators, and even the media now have placed such an importance on winning games that the concept of fun is pretty much absent.  If it's not about winning football games, then it's about scholarships and the potential NFL contract that could come along to those especially talented players.  American football players spend increasing amounts of their summer offseasons not going to the beach or the woods, working summer jobs or pursuing personal projects, but rather in the weight room or on the track with teammates (and some cases coaches).  For many players, football comes before academics, despite what American football coaches and parents may want and say.
Not here in Australia.
Almost everywhere else and certainly in Australia, players pay to play.  Our under 18's squad pays ~$150 for a 8 week preseason and 7 games minimum.  Not much in the grand scheme of things, but I dare you to go ask any high schooler now if they'd be willing to pay over $150 just for the right to play, let alone start. I doubt you'd find many takers.  No, our players play for fun, and it's an extremely difficult mindset for a high school football coach to get around.  Once you do though, it's harder to enjoy yourself more as a football coach.
We had a semi-final game this past week against the top ranked side. They were filled with 18 year olds who had been playing the game for a few years, whereas we were mostly first year players and mostly under 17.  My coaching staff and I did our very best to prepare our team to win that game, and for most of it, we hung in with them right until the last quarter.  We had a few passes intercepted that were tipped balls and were just bad luck, and our best running back happened to have his first fumble of the year, not to mention we lost our starting QB to injury early in the game.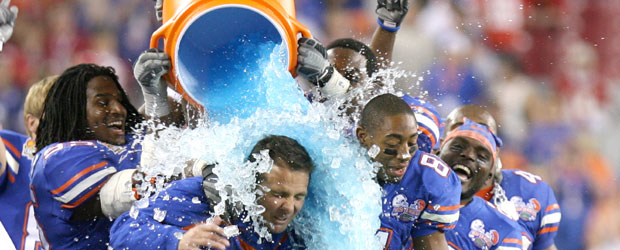 But throughout the whole game, none of our football coaches raised their voices, got frustrated, discouraged, or upset.  We knew these kids were playing the hardest they possibly could, but it just wasn't enough on the day.  At that point, we decided to let our graduating players play whatever position they wanted to (within reason) and let them wreak havoc.  We had linemen running the ball, QB's playing safety, and nearly everyone wanted to play linebacker.  On the second to last series of the game, one of our linebackers absolutely crushed a receiver running a slant.  The whole sideline erupted on the hit, you'd have been confused who was winning the actual game.  Afterwords, the team was so pleased with themselves that you couldn't tell they lost the American football game.  Heck, I even got a Mountain Dew bath after our final Bull in the Ring.  Parents came up after the game and congratulated me on the football season, and that they were happy to see their kids happy.  At the end of the day, that's why we all play or coach the game of American football - to have fun.  It's important not to lose sight of that.  If you and your players are enjoying themselves, trust me, the winning will come.
If you would like to contribute a coaching lesson or story to Football and Coaching, Please use the contact form to drop us a line.