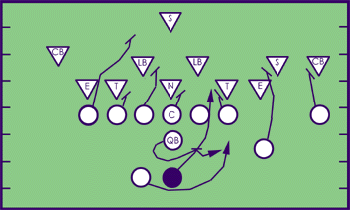 So I was browsing the internet and I was trying to think of some topics to write about and thought I would write about the Wing T formation. This formation has been the foundation of the spread option attacks of todays game and allows for a better balance of run and pass. Learning about this formation will give your football team a great knowledge base to incorporate option and spread option offensive packages.
I found a great blog that talks all about the Wing T and how to coach it. The blog is called Wing-T Football: An Offensive System. I would highly recommend it any coach looking to learn about this offensive scheme. There was also another site that I found which provides a nice basic package of Wing T plays for your team. The site is called FBforYouth.com.
I also found some nice videos about wing t plays and highlights. Enjoy!
Wing T plays:
Dive Play
Counter Play
Belly Play
 Sweep Play
 Here are some highlights of the Wing T: