Another great contribution by Coach Bryce Karasiak. If you have a topic that you would like to talk about on the blog, just drop me a line here. 
Many strength coaches consider plyometric training to be jumping up a down on boxes at different heights. Yes, this is true, but expanding on box jumps will allow athletes to get a variety of plyometric training that ultimately helps athletes with explosive movements on the field. I use a variety of plyometric training for my athletes. Single leg, double leg, ground base, and multi-planar plyometrics all helps football players develop their explosiveness.
First, I start with field plyometrics. I use tuck jumps, triple extension jumps, bounding movements for distance and height, quick jumps and reaction jumps. These all correlate to the football field and help increase explosiveness with the triple extension movements. Triple extension is developed by increasing the power output in the hips, knees, and ankles of the lower extremity. These triple extension movements also correlate to the power clean and snatch movements performed in the weight room, but in a different way.
Next, I incorporate these field plyometrics into my athletes' speed work. By this I mean, I take these movements stated above, and incorporate them into running. So I use jumps into long strides, jumps into sprints, jumps into an athletic position. These drills will then mimic movements that these athletes perform on the field and help develop power and explosiveness when needed during the game.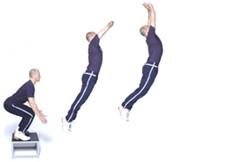 Finally, I use plyometric training in the weight room. For me, I like to have my athletes do strength movements like the squat and bench press and then transition right away into plyometric training. For example, I will have my players perform the bench press. Immediately after they perform this set, the go directly into a plyo-box push-up. Not only will this develop strength from the pressing movement, but it will develop power in an already fatigued area in the body. The same thing goes for the squat. I will have my athletes perform a set of squats and then move directly into box jumps, standing long jumps, or single leg box jumps. Again, this allows the athlete to develop the strength in his legs, but also continues the development of explosive training. As most strength and conditioning coaches know, the squat and bench generate 300 and 1100 watts of power respectively. This is great for strength building, but we know football players also need power and explosiveness. Because of this, I allow the athletes to perform the strength phase of training, but to increase the power output; I have them perform plyometrics immediately after their strength exercise. Not only will the athletes get stronger, but they will also increase their power output at the same time. It is like killing two birds with one stone. It also allows the strength and conditioning coach to get more out of the workout as we know we only have so much time with our athletes.
      It is important to remember that overtraining with plyometrics can cause injury. Allow your athletes to fully recover from their workouts and try not to perform plyometric training more than 2-3 times per week. I found that when using these techniques with my athletes, not only will they get stronger, but their explosiveness and power transfers over to on-the-field performance. And that is our main goal: Make these athletes quicker, stronger, and more powerful on the field. I also noticed that the injury occurrences went down in my athletes as well. Doing these types of movements allows the athletes to improve the reaction time and stabilizes all the muscles surrounding important joints. Accurate technique training by the strength coach is important. Doing some plyometric movements incorrectly may cause injury, so teaching proper technique for plyometric training is just as important as performing them. Try incorporating plyometric training directly after strength training and see if it improves their athletic performance. I, for one, am a believer in this as I have seen huge improvements in the athletes I have worked with.
Next Week: Designing Your Summer Workout Programs