So today I was looking around and found that the NFL has been busy working on capturing that global market share that the World League of American Football, Football World League, NFL Europe, NFL Europa was suppose too. I knew most viewed the overseas venture as a time for NFL clubs to allocate project players and to season those backups so that maybe some day could contribute to the club. I saw it as a missed opportunity.
Well there were many weaknesses to the NFL's attempt at going abroad with a league. Even though attendance was growing steadily every year for most of the NFL Europe clubs:
| Team | Year 2007 | Year 2006 | Year 2005 | Change 06/07 |
| --- | --- | --- | --- | --- |
| Frankfurt Galaxy | 33,043 | 28,118 | 29,377 | + 4,925 |
| Rhein Fire | 24,473 | 22,020 | 22,532 | + 2,453 |
| Hamburg Sea Devils | 20.874 | 15.082 | 17,920 | + 5,792 |
| Berlin Thunder | 15,710 | 13,819 | 16,848 | + 1,891 |
| Cologne Centurions | 14,352 | 13,538 | 14,238 | + 814 |
| Amsterdam Admirals | 11,668 | 13,421 | 12,877 | - 1,753 |
it never got the exposure it needed. I remember watching a game or two on Fox on a random Saturday during the NFL off-season. There was hardly anyone in those massive "football" stadiums (which were converted soccer stadiums). And to make things worse the European clubs would cover whole levels of the stadium with those annoying seat banners to make it visually seem like more people were in attendance. Then the camera men would only shoot one side of the field where all the fans were corralled and do close ups of the visitors sideline where there was no one. They tried to make it to much like the number one sport in Europe, soccer. I mean I played soccer when I was young, I mean that is usually the first sport besides baseball and basketball that American kids try. Soccer is a tough sport, but trying to compare them is like oranges and apples. They have different draws.
One of the biggest issues that plagued the European clubs were the lack of front office talent. I tried for two years to go over seas and work of NFL Europe. They said that they only take interns from that country. Then you look at the front office staff list and there are hardly any Americans. How are you going to spread an American game with no Americans running the show. Yea, there are cultural differences and the need to market to the host countries, but if you have qualified Americans that have a football background and expertise to push the league to new levels why not spread them throughout the clubs. Kinda like our military role in foreign policy where Americans go into a country and teach them what we do and then lo and behold they become eerily similar to us. Like the same music, clothes, even begin to change the overall mindset of whole country. Sorry went off on a tangent…. anyways the NFL should have used both systems to make the European project a success. Hired Americans to run the more important roles of the clubs like Director of whatever and then hired "locals" as assistants. This would allow the assistants to be trained and taught the right way to market this unique sport of American football. The challenge would be to always have that American presence in the front office and to also have the local mix as well.
Either way NFL Europa closed up shop this past spring. So under the radar the NFL has been slowly cultivating strategic hotbeds across the globe. It started with NFL franchises playing in Mexico City and then some in Japan. There was even one scheduled for London for the New England Patriots. By doing this the NFL has been poking the bear that is the international market seeing what will make it wake up to the idea of American Football. They have also began to create offices and websites advertising various new leagues in, coincidentally, the same areas of the world where these international preseason games were played. Here is a list of the new offices: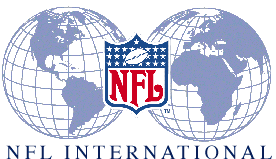 NFL International
> NFL Canada
> NFL Japan
> NFL United Kingdom
> NFL Mexico
> NFL China
Accompany these new leagues will be efforts that target the youth of each country in order to develop rec leagues and teams to spark interest. Mostly this tactic will be used to develop a young fan base for the sport to grow with and develop. These efforts will likely consist of flag football leagues because equipment (i.e. pads helmets, uniforms, etc.) are to costly to ship overseas. So until then the flag football option is a lot more cost effective. Also it introduces the"locals" to the sport in a possibly less negative light due to the lack of serious injures that occur in flag football compared to tackle. This is what they should have done to begin with back in the 1970's and 80's when the football craze was beginning overseas. If they would have focused on local development rather then just advertising a sport, I believe the NFL Europa would be a flourishing league to this day. One other point I should make is why not associate football to rugby? I coached several rugby players that played football as a "hobby" and they were phenomenal.
It will be interesting to see how things work out for the NFL in their efforts for world domination….