Each Week Coach Bryce Karasiak will be contributing to the blog with is knowledge and observations from the weight room. He has coached on the division one college level as a strength and conditioning coach and wanted to share his knowledge with fellow football coaches.
If you have an interesting idea or a football coaching related topic that you would like to post about, drop me a line by Clicking Here.  
Every college strength and conditioning coach does some form of testing in the weight room. Based on my experience, I think testing protocols are necessary for many reasons. But, what tests should be used when testing your college athletes? As coaches, we all know that time is the number one limitation with our athletes. Even though we see our players more than the regular coaching staff, we are still limited on the things we can do in the weight room. Implementing the correct testing protocols, specific exercises tested, and why we are testing these exercises, are all important avenues a strength and conditioning coach takes into account when preparing a testing cycle.
At the college program I was at, we tested four times a year: Before winter workouts, after winter workouts, before summer workouts and right before fall camp. During in-season training, we did not test as our program was designed to maintain off-season strength, work on range of motion, and technique. In my program, we used four different lifts as testing protocols. Along with doing body fat measurements with calipers and weigh-ins daily, we tested the Power Clean, Squat, Bench Press, and Vertical Jump. The Power Clean was used to test entire body strength and explosiveness. The Squat was used to test lower body strength. The Bench Press was used to test upper body strength, and the vertical jump was used to test explosiveness. All our tests were completed based on the 1 RM (repetition max). Some programs use the 3 RM or 5 RM test, but I feel that plugging numbers into an equation does not always give you accurate numbers. The 1 RM also allows the players to physically see the amount of weight they can lift. For our players, they seemed to use the 1 RM test as a motivational tool. I am not saying using the other testing tools is wrong, but for me, the 1 RM more beneficial for our athletes.
Many coaches test to see how strong or powerful a guy is. Yes, I agree with this, but more importantly, I use testing as a way to see if my guys are getting stronger and more powerful. I don't care what a player comes to college lifting. I just care if there is significant improvement from the time they arrive on campus and the time they leave. My job is to make these players, bigger, faster, and stronger, and that is what my program is designed to do. Yes, the guys love the record boards to see who can lift the most weight and who is the strongest on the team, but my goal is to try to have each player reach his genetic strength. Without the use of illegal substances, all athletes have a genetic strength that

they can reach. This genetic strength is the strongest this athlete will be no matter how much or how often they lift. Each athlete is genetically programmed to lift a certain amount of weight to be the strongest he can be. My goal is to try to allow each athlete to reach this peak before he leaves the program.
As most strength coaches find out, an athlete will usually have a bigger increase from his freshman to sophomore season, compared to an athlete that goes from his junior to senior season. Each athlete does progress and improve at his own rate, but all in all, athletes see a significant increase from freshman to sophomore year as opposed to junior to senior year. Even though this is the case, I design my programs to ALWAYS increase the strength and power of my athletes, no matter what the position may be.
As far as testing goes, we would take a week out of each training phase to test all our athletes. We test the Power Clean, Squat, Bench Press, and Vertical Jump on different days. This allows maximal rest in between tests and also keeps the athletes fresh as they prepare for the next test. For each test, the athlete starts at a weight that he knows he can perform and lifts it. We have multiple platforms set up so we can go from athlete to athlete as they perform the desired lift. The spotter, ALWAYS a coach, spots each athlete and determines if the lift is good or not. If it is a good lift, the coach will determine if the athlete should increase the weight for the next lift or stop the athlete, knowing the athlete will not be able to perform the next lift with another increase in weight. (The reason the coach determines if the athlete continues or not is based on injury. Athletes will always want to perform another lift, but an experienced strength coach knows when an athlete has maxed out. Keeping the athlete from performing another lift is the best way to prevent injury.) The number is then recorded by the player's name and later plugged into a program that determines the percentage of increase. After all the testing is complete, we then post the numbers for all the players to see. The athletes that perform well enough to make it to our strength and conditioning board based on their new numbers, get a name plate on the board showing their accomplishments and receive a t-shirt as a reward.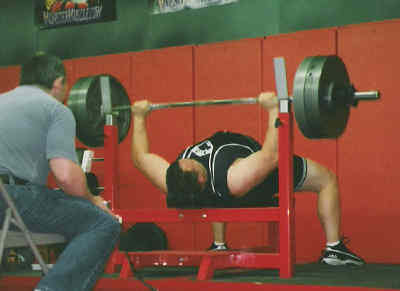 Another part of testing that is important is the opportunity to show the coaching staff the improvements on the team. This allows the position coaches and the head coach to see the progress each player has made. Testing also helps in job security. Even though a coach's job at the college level is never stable, keeping accurate records that show that the players are constantly progressing keeps the head coach happy and allows the strength and conditioning coach another season in the program. If players are not showing improvement, the coach can then reevaluate his program and find out why the players are not getting stronger. As a strength and conditioning coach, the best advice I can give to others is DOCUMENT, DOCUMENT, DOCUMENT. Make sure everything you do in the weight room from workouts, nutritional guidelines, and any and all results by your athletes should always be documented. Then, when you have to report back to your superiors, you have the proper documentation that shows exactly what you are doing down in the dungeon.
Remember, not all athletes' progress the same way, but if you are designing your programs correctly and using the proper testing protocols, your athletes will show significant improvement from freshman to senior year. If there is little to no improvement, you better get your resume prepared because your job will be on the line. Testing is one of the most important aspects of a strength and conditioning coach's job. Even though you may only do it three to four times a year, testing allows coaches, athletes, and your superiors to monitor the team's progress during all phases of your program. No matter what tests you choose to perform, always make sure you know and understand the reasons you have for using these tests. Believe me, you will be asked to have up-to-date and accurate records of all you athletes. Your job is on the line.
Next Week: Nutritional Guidelines for the College Football Player